16 août 2010
1
16
/

08
/

août
/

2010
22:52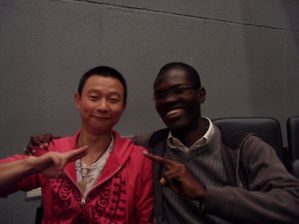 Alright, some of u already know me, but yes, i have officially turned in the martial art DVD production. It is a new and excitement adventure. It just happened like that! I have recently met one American martial art expert, writer who was looking for someone to make a DVD on martial art: Jeremy Francisco Beattie. He was in China for a cup of month in order to make some research about Chinese tai chi and some Chinese master. This guy s more specialized in boxing, but he also have a quite good experience in taiji. He came in Tunisia recently and told me about his project. Fortunately, we had the same idea, and I just accept because I received it like a sign of God.
"ALL IS CONNECTED"
It was quite funny because from the first second I could fell a kind of connexion between him and me. After the change, I really wanted to explain to him my idea about martial art and why I agreed for the DVD.
I think that if I had met him before, I would have never accepted. But now I consider that I'm in a perpective of sharing knowledge and experience. Of course I'm still learning, but I want to bring to others a different point of view from what they used to watch.
So hopefully, i got more performing skills, I have discovered also about boxing training and techniques…