26 septembre 2010
7
26
/

09
/

septembre
/

2010
09:08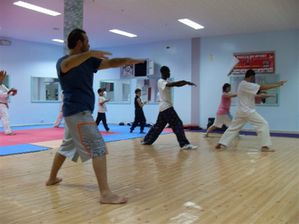 Did you know that more than 180 MILLION people practice Tai Chi every day? This makes Tai Chi the most popular form of exercise on Earth! It's no surprise because those who use Tai Chi to exercise every day have longer and healthier lives.
Many people wondered why tai chi movements are so slow; But they simply ignore that the slow, gentle, dance-like movements of Tai Chi accumulate energy while calming you down, allowing you to feel refreshed when you finish, and that is a reality.
Tai Chi creates an awareness of and influences dimensions that are not part of others martial arts or sport. Because tai chi is a part of Chinese culture, most exercises involve the meridian system used in acupuncture and it is also really important and helpful to add mind intent and breathing techniques to physical movements. When these dimensions are added, the benefits of exercise increase exponentially. If you are interested in learning how to relax, gather more energy and reduce stress in your life, then Tai chi is right for you.